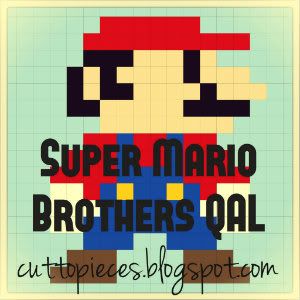 This is part of an ongoing series of posts for The Super Mario Brothers Quilt Along I'm hosting here on my blog. You can join in at any time! You will find the links to all steps in my top bar. Also please feel free to join the Super Mario Brothers Quilt Along Flickr Group.

♪do do da do. Da do da do…do do da do do do da do do do♪
Ready? It's Luigi time!
I'm partially through my block and you can see my progress…I opted to finish up that new quilt for Caitlyn (and yes it is done! pictures soon!) so I got a little behind on my schedule. But given that Luigi and Mario are the same except for the shirt and hat color, you will all get the point. 😉 Although I need to check and see if I used the right green fabric. I think my instagramed photo might be throwing me off a bit here.
And can I just say that I love the Flickr group and all the creativity over there. I jump up and down each time I see a new block pop up! (I'm channeling my inner Luigi…I always liked Luigi better because of the green…yes, I'm totally shallow like that)
Stephanie already finished her Mario AND Luigi blocks and she rather geniusly flipped Luigi to face the opposite direction as Mario. Love that.
I know that some people are talking about making one of the fellas a jumping version of himself as well for more variety. I love that idea too!
Be sure to add your creations to the flickr group so we can all see how we are doing!
You can find all of the PDF's for the Super Mario Brothers QAL available HERE.