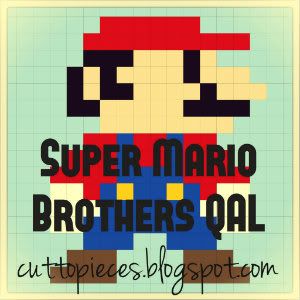 This is part of an ongoing series of posts for The Super Mario Brothers Quilt Along I'm hosting here on my blog. You can join in at any time! You will find the links to all steps in my top bar. Also please feel free to join the Super Mario Brothers Quilt Along Flickr Group.

♪do do da do. Da do da do…do do da do do do da do do do♪
Ready? It's ? Block time!
The ? Block is always full of excitement. What exactly will be found when you bump your head up against that block?! Bunches of coins? A red mushroom to grow? The possibilities will keep you on your toes…or rather off of them as you jump to reach that block.
It's Block #5 in our QAL and I apologize for being a little behind on getting this guy posted. Life happens and keeping up the pace can be difficult. But I'm determined to be a little more timely with future blocks. Now I just need to sew together both my cloud and this ? block. But first I need to get over my cold.
You can find all of the PDF's for the Super Mario Brothers QAL available HERE.
Be sure to add your creations to the flickr group so we can all see how we are doing!
There are bunches of blocks there and I get so excited with each one knowing that there is a happy Mario fan out there who will be getting a quilty fun gift!