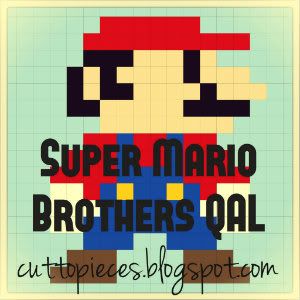 This is part of an ongoing series of posts for The Super Mario Brothers Quilt Along I'm hosting here on my blog. You can join in at any time! You will find the links to all steps in my top bar. Also please feel free to join the Super Mario Brothers Quilt Along Flickr Group.

♪do do da do. Da do da do…do do da do do do da do do do♪
Ready? It's Star time!
Oh that shiny yellow star.  I can just see it gleaming elusively in the landscape as I desperately try to catch it.  To know that for a brief period of time my Mario would become invincible and fast, destroying all the enemies all the way.  Plus there is that cool color changing flashy thing he does and that music that increases your anxiety with each second warning you that your power will soon run out.  Good times.
It's Block #8 in our QAL and I'll admit that other than cutting up the fabric and drawing my grid, I do not have this one started.  But I don't want to hold any of you back.  So here is all the info where you can find the directions…
Also, I've newly added all of the blocks as PDFs in Google Docs as so many people were having problems with Scribd.  Sorry about that!  But so far everyone seems to be having good luck with the Google Docs (and bonus! I have all 12 blocks there already!).  So you can also find the PDFs available HERE
Once again, I'm blown away by YOUR serious creativity!  Check out the BACK (can you believe this is the back?!) of Simone of Local Honey Crafts' Mario Quilt.  She created a huge Mario Kart Mario complete with gold coins.  Can we say awesome?!
Be sure to add your creations to the flickr group so we can all see how we are doing!