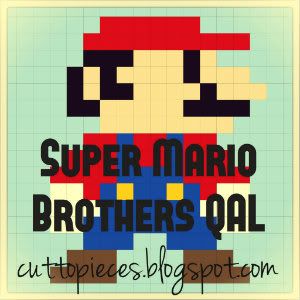 This is part of an ongoing series of posts for The Super Mario Brothers Quilt Along I'm hosting here on my blog. You can join in at any time! You will find the links to all steps in my top bar. Also please feel free to join the Super Mario Brothers Quilt Along Flickr Group.

♪do do da do. Da do da do…do do da do do do da do do do♪
Ready? It's Cloud time!
A Happy Cloud is one of the mainstays of the Mario World. Though technically not a friend or foe, this cloud is immediately recognizable as part of the landscape that makes up that strange and wonderful place Mario and friends call home.
It's Block #4 in our QAL and I thought you might all want an easier block to work on. The lines of this block are pretty easy and it should go together slightly faster than our previous three. (So don't worry if you are not caught up! He's a happy cloud, not a sad one!)
You can find all of the PDF's for the Super Mario Brothers QAL available HERE.
Be sure to add your creations to the flickr group so we can all see how we are doing!
There are a number of fabulous Mario and Luigi blocks that have popped up. And the Goomba is starting to make an appearance as well. Mario fans unite! We'll soon have the internet buzzing with our retro amazing quilts!