*okay…I started a group on flickr…you can find it HERE.  Blog button is at the bottom of the post!*
UFOs. You know. You know what I mean. They're there. Floating above you and telling you "work on me. work on me." Yep…they can be slightly creepy…a little out of date…a blast from your past.
There are a lot of resolutions out there in blog land right now…a heck of a lot of them include using up your current stash. Well last year I did the whole "let's not buy any fabric for 8 weeks" thing and many of you played along with me. I gotta say…I'm sort of past that. Trust me I want to use up my stash. But I know from experience that going cold turkey isn't the way for me. Small indulgences make me a happier person. And trust me…you want me to be happy.
So my resolution for this year has not necessarily been slash the stash or scrap my scraps (though it's great when that happens). No. I've decided that what is really hanging over my head is not my fabric stash (which actually makes me pretty happy most of the time) but rather the unfinished projects that are dragging me down. Those darn UFOs. They can give me a guilt trip like no amount of beautiful fabric can….because they've been started. Heck, most of them are almost finished! But distractions come, deadlines loom, and those projects get put on the back burner. Sometimes they are there for so long I know that I am really not interested in spending my time finishing them.
so here it is: Project UFO
I'm not necessarily even putting this out there for anyone to join me (though I'd love if you did!). My goal for this year…certainly the first six months of the year is to go through my UFOs and attack them. Brutally. Yep. Brutally. I think some of those projects need some tough love. Not everything I've started really needs to be finished. And while it is hard to get rid of things, that is exactly part of my plan. And I've already begun!
This pile of green, grey and white bee blocks had been acquired over the last couple of years through various swaps and bees. I even made some. But I needed to let them go. I don't have enough for a quilt myself. I don't have the time for them. But most importantly I don't have a vision for them and they deserve that.
I was holding out on them waiting for a time to get to them. But tough love people. I was not going to be the one to give them the happy home they need. Thankfully Melissa snatched them and is thrilled to be getting them! I know she'll do right by them.
So that is my first venture into Project UFO. I have more planned because frankly there are just too many projects started around here that are not being finished in a timely manner. Unless I plan to spend years on something I don't want to be doing that. I might put a six month time limit on things. Eeek! Tough love. Tough love. I can do it. Finish it, pass it on, or toss it. That's what you'll be seeing. I need life to be a little simpler and nothing like a cute graphic to help me do that. 😉
If you like the idea of Project UFO, let me know. I can make up a blog button…we can do the whole linky party thing…whatever. But I'll be using my cheesy graphic to help motivate me to handle those UFOs.
UPDATE: Here's the button! Just grab the code underneath it and post that in a HTML widget on your blog. Easy peasy!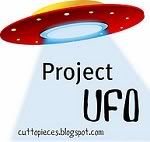 <div align="center"><a href="http://cuttopieces.blogspot.com/2012/01/project-ufo.html" title="Cut To Pieces"><img src="http://i155.photobucket.com/albums/s316/pingpong4614/ufo-2.jpg" alt="Cut To Pieces" style="border:none;" /></a></div>
I want to believe. (ten points for whoever gets that quote!)